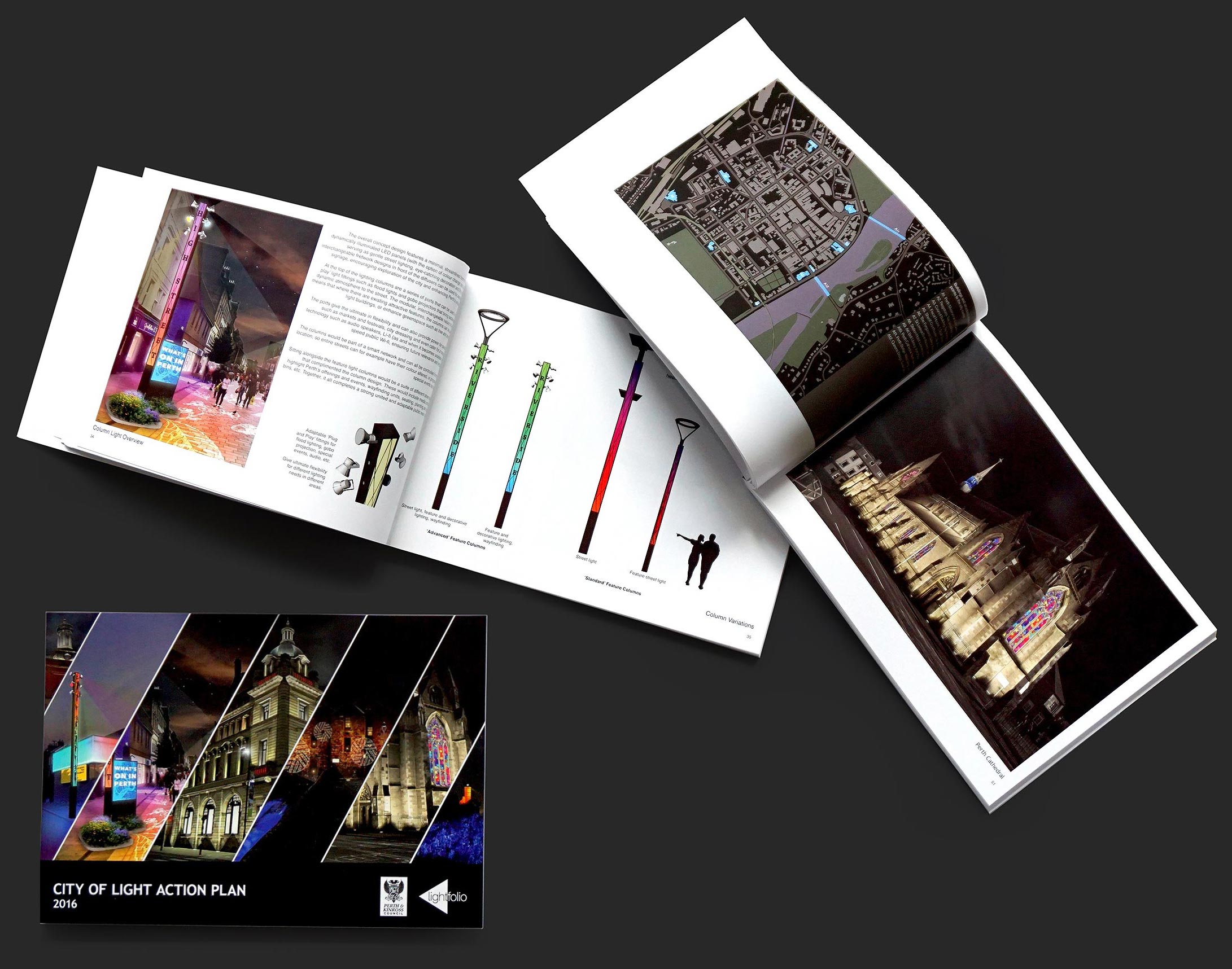 City of Light Action Plan, Perth
The City of Light Action Plan outlines a series of unique lighting projects, which when combined, will promote Perth's unique cultural heritage, architecture, public realm and greenspace, reinforcing Perth's status as a young, vibrant, cultural city.
Bigg Design, working with Lightfolio, co-authored the Plan for Perth and Kinross Council, creating an overarching vision for lighting that dramatically enhances perceptions of quality, vitality, animation and safety after dark within Perth city centre - encouraging increased use and extended dwell time, leading to a sustainable evening economy.
Assisting in all areas of the project, Bigg Design's core responsibilities were in producing multiple surveys of the city centre, research, strategy, and development of concept lighting designs for the many buildings and streets of Perth, as well as final book design and production. The conceptual designs outlined utilise the very latest in equipment, technology and design creativity to reduce energy use and subsequent carbon footprint, keeping Perth at the forefront of sustainability.
The Plan has been instrumental in securing a £5 million Lighting Plan Budget in conjunction with a further £9 million Placemaking Budget and will be delivered over the forthcoming years.
A comprehensive plan for enhancing key streets, feature buildings and and green spaces was conceived following rigorous surveys and planning.
One of the key elements in creating a cohesive city-wide treatment was the design of a suite of lighting columns and street furniture that can perform multiple functions and can be widely adapted for different purposes. These pieces not only illuminate the streets but give Perth a bold public identity and help residents and visitors alike navigate and explore the city, revealing routes, public information, providing seating and planting.
As well as ambient street lighting, the columns can be used to flood spaces and adjacent buildings with colour and pattern, animation and special effects, giving a truly innovative approach to public space design.
The lighting columns can be customised for different locations. On Tay Street, Perth's riverside route, for example, water patterned filigree insets could decorate the column, whilst light projection could be used with deep blue water patterns. This customisable quality gives each street a unique identity whilst maintaining consistency within the city as a whole.
The columns can coordinate with feature buildings such as Perth Theatre with the vertical colour-change LEDs on the columns mirroring the Theatre's colourful light washes. Projections and column decoration can be tailored to suit the nature of the space, creating a real fanfare welcome for visitors.
The city's back lanes or Vennels, provide a great opportunity to surprise and delight. This example, Albert Close, illustrates how the spaces could be transformed, encouraging people to explore these historic routes.
Light projection creates a carpet of patterned light to walk along whilst the close itself would be bathed in a colour changing glow from wall bracket lights in the style of the proposed feature lighting columns. The old city wall could be lit with projectors, whilst the adjacent stream, trees and buildings that flank the close receive soft washes of colourful light to draw people towards the location and encourage discovery.
Creating a gateway to the High Street, Perth & Kinross Council's headquarters building façade has significant detailing and demanded to be lit architecturally, revealing the features through luminaires mounted discreetly on the building itself, as opposed to general flood lighting. The building was selected as a pilot project that we later completed with Lightfolio.
Architectural lighting for key and strategically important buildings and structures could be greatly improved. For example Perth Cathedral currently has no lighting whatsoever and is only dimly lit by street lights.
An architectural lighting approach lights the Cathedral in discreet white lighting with colour provided from back lighting the stains glass. The roofscape and filigree tower are subtly lit in cool white, reinforcing the mass and height of the building. Static colour internally within the tower could be used to highlight this feature and to create synergy with other landmarks around the city which form part of the lighting plan.
Traditional lanterns combined with illumination of the Lade, and milling-themed projections on the Lower City Mills buildings bring this unique part of the city to life after dark.
Elegant buildings such as Burns & Co make great candidates for lighting both architecturally and perhaps as a canvas for a projection based artwork as part of a lighting festival. In this example the focus should be in discreet uplighting at the foot of the pillars adjacent to the doors, catching all the architectural embellishments on the façade whilst also bringing attention to the ornamental tower on the roof.
The illumination of Kinnoull Tower and it's cliffs provides a beacon high above the city, visible for miles from multiple approaches.